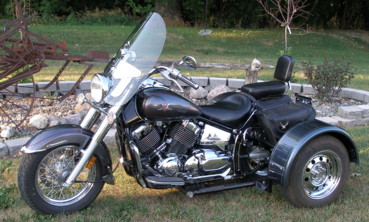 New 2006 Yamaha 650 V STAR Conversions for $11,500
Contact Cool Custom Trikes for your VOYAGER CONVERSION KITS
$4095 plus Shipping

Installs on your bike adding a belly pan to the frame and 2 rear wheels with suspension,
Uses your existing motorcycles rear wheel and can be removed so you can still ride on two wheels in 5 minutes.
Can be shipped directly to you for you to install yourself.

NEW INSTALLED VOYAGER CONVERSIONS PHOTOS!
The motorcycles listed below are the bikes that currently can be fitted with a Voyager Kit
and the frame used for that particular bike. (A,B,C, or D). Fenders can be color matched or come black.
Includes Trailer Hitch. Options include custom fenders, custom rims, lights.
Contact us: Phone 218 773-7700 email us: CoolCustomTrike@aol.com

American Iron Horse
2004 Sportster 883 (A)
Legend 2003 (A)
Big Dog
1996 Proglide (A)
BMW
1980 BMW 800 (A)
K 1100 LT (B)
K 1200 LT (B)
R 1200 C (A or B)
Harley Davidson
Electra Glide (B)
1340 Dresser Series (B)
1450 Dresser Series (B)
2004 Sportster 1200 (A)
2005 Sportster 883 & 1200 (A)
Dyna Family (A)
Fat Boy (A)
FLH 1200 Dresser (A)
Softails (A)
Sportster 1000 (A)
Sportster 1200 (A)
Sportster 883 (A)
Sportster 900 (A)
VRSC V-ROD (A)
Honda
1000 Goldwing (B)
1100 Goldwing (B)
1200 Goldwing (B)
1500 Goldwing (B)
1800 Goldwing (C)
1999 Nighthawk 750 (A)
2004 Shadow Aero 750 (D)
CB 750 Super Sport (A)
CB 900 (A)
Honda CX 500 Deluxe (A)
Honda Helix 250 (A)
Honda Rebel 250 (A)
Honda Rebel 450 ('86-'87) (A)
Honda Reflex 250 (A)
Hondamatic 750 (A)
Hondamatic CM 400 & 450 (A)
Magna 750 (A)
Pacific Coast 800 (A)
Shadow 1100 ('85-'91) (A)
Shadow 1100 ACE (D)
Shadow 1100 ACE Tourer (B)
Shadow 1100 Aero (D)
Shadow 750 (A)
Shadow ACE 750 (A)
Shadow Sabre 1100 (A or D)
Shadow Spirit 1100 (A)
Shadow VLX 600 (A)
Shadow VT 700 (A)
Silver Wing 600 (A)
Silver Wing 650 (B)
ST1100 (B)
Valkyrie (B)
VTX 1300 (D)
VTX 1800 (A)
VTX 1800 S (D)
VTX 1800R (D)
Indian
Chief 1999 - 2002 (B)
Chief 2003 (C or D)
Spirit 2002 (A)
Kawasaki
Drifter 1500 (B)
Drifter 800 (A)
Eliminator 600 1996 - 1997 (A)
KZ 1000 (A)
KZ 1100 (A)
LTD 750 (A)
Mean Streak 1500 (A)
Mean Streak 1600 (A)
Nomad 1500 (B)
Voyager 1200 (B)
Voyager 1300 (B)
Vulcan 1500 (B)
Vulcan 1600 (B)
Vulcan 2000 (C or D)
Vulcan 500 (A)
Vulcan 750 (A)
Vulcan 800 (A)
Vulcan 800 Classic (A)
Vulcan Classic 1500 (B)
ZL 1000 (A)
Motor Guzzi
California 1100 (B)
California EV 1100 (B)
California III 1000 (B)
Polaris
Victory (B)
Victory CC 2003 (B)
Victory Sports Cruiser 2000-2001 (A)
Victory TC 2002-2003 (B)
Victory Vegas (A)
Ridley
2003 Ridley Auto-Glide 700 (A)
2004 Ridley Auto-Glide 740 (A)
Suzuki
1979 GS 1000L (A or B)
Boulevard C50 (D)
Boulevard C90 (A or B)
Boulevard M50 (A)
Boulevard S40 (A)
Boulevard S50 (A)
Boulevard S83 (A or B)
Burgman 650 (A)
Cavalcade 1400 (B)
Intruder 1400 (A or B)
Intruder 1500 (A or B)
Intruder 800 (A)
Intruder Volusia 800 (D)
Marauder 800 (A)
Savage 650 (A)
Yamaha
Road Star 1600 (C or D)
Road Star 1700 (C or D)
Road Star Warrior 1700 (B)
Royal Star 1300 (B)
Savage 650 (A)
Savage 650 (A)
V-Star 1100 Classic (C or D)
V-Star 1100 Custom ( A or B)
V-Star 650 (A)
Venture 1200 (B)
Venture 1300 (B)
Venture Royale 1200 (B)
Venture Royale 1300 (B)
Vigaro 250 (A)
Virago 1000 (A)
Virago 1100 (A)
Virago 535 (A)
Virago 750 (A)
Virago 920 (A)
Standard Kit Price $4095
A & D Unit: 55" outside dimension 36" inside fender width
(D Unit is 3" longer than the A Unit)
B & C Unit: 60" outside dimension 41" inside fender width
(C Unit is 3" longer than the B U